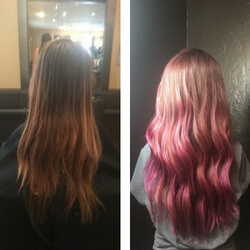 What to Expect from Balayage
Are you tired of having a uniform hair color? Or perhaps you're getting bored with your usual highlights? It's time to talk to your stylist about balayage. Balayage is a relatively new trend, but it was actually invented back in the 1970s by French colorists. Balayage, which means "to sweep," relies on a freehand technique that results in a gorgeously lightened hair toward the ends of your locks. People love balayage because it doesn't result in visible regrowth lines. Instead, the highlighted portions look perfectly blended and seamless.
Consult
Before your stylist begins the process, he or she will discuss your expectations and goals for your appearance. You may want to bring in pictures of celebrity hair you admire to give your stylist a good idea of what you want. Your stylist will also examine your hair to determine the best shades to use for the highlights. For example, if you have brown hair, using different shades of caramel will create a beautifully natural, sun-kissed look. Note that balayage can be done on all types and colors of hair. It can even be done on short hair!
Process
In most cases, balayage lightening is done without the use of foils. Instead, the stylist will apply the solution using a freehand technique. Most of the color will be concentrated toward the tips, with a gradual lightening as you travel up toward the root. No solution is applied to the top couple of inches of hair. Since foils aren't used, oxygen will oxidize the bleach. This causes a gentle lightening. However, note that if you already have light blonde hair, your stylist may use foils to achieve a lighter tone instead of using extra bleach.
At Salon de Nouveau, balayage is one of our specialties! Our experienced stylists take pride in meticulously planning every client's coloring treatment in order to best frame the face and bring out the natural beauty of the hair. You can call our hair salon in Tucson at (520) 323-0770 to request an appointment for balayage.